Engaging the Australian business community to educate their employees on the importance of gender equality for the prevention of violence against women.
Accelerating gender equality progress
Leaders and workplaces play a critical role in promoting gender equality with workplaces having the ability to significantly influence our attitudes, beliefs and behaviours in both our personal and professional lives.
The Carlton Respects Workplace Charter provides a framework of actions that lead organisations to understand equality and inclusion in the workplace.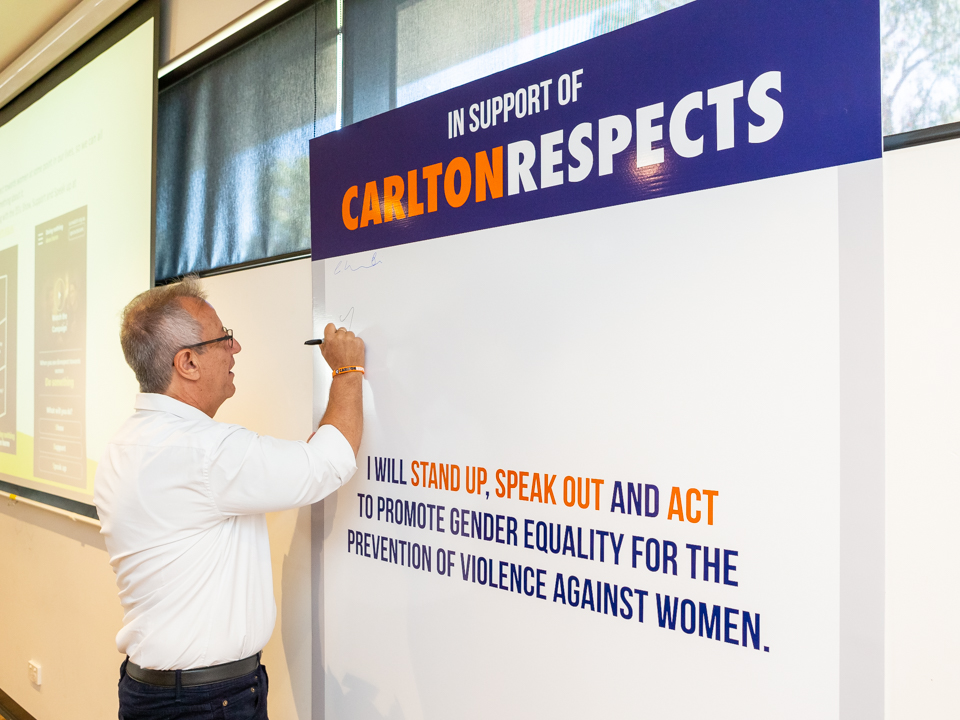 The power to prevent violence against women lies not in the efforts of a single workplace or leader, but in the changes we can make together.
The facts behind gender equality
Women control or influence over 72 per cent of household spending in Australia.
Companies need to deliberately tackle gender stereotypes in how they advertise and in the products they offer

Having women in management leads to a 19 per centhigher return on equity.
Smart investors are no longer just looking at financial indicators, they are paying attention to workplace gender equity to predict returns.

Corporate social responsibility (CSR) builds integrity, enhances relationships, increases loyalty and commitment.
CSR is quickly becoming one of the major factors in the consumer decision making process.
" Well done to the Carlton Football Club for continuing to create awareness, and for engaging its corporate partners to come together and fight domestic violence. Together, we can make a difference."
– Workplace Charter partner member. 
Carlton Football Club acknowledges the traditional owners of the land on which IKON Park is located, the Wurundjeri people of the Kulin Nation. The Club also acknowledges and pays its respects to their Elders past, present and emerging and the traditional owners of country across Australia, where we play our great game.